2x 5 STAINLESS STEEL NOT CHROME BMW MINI SPOTLIGHTS SPOTLAMPS KIT WITH BRACKETS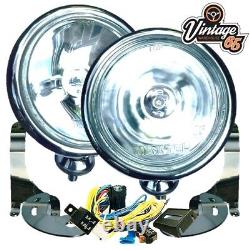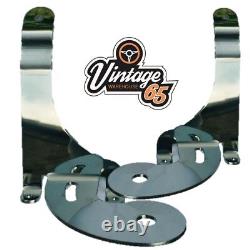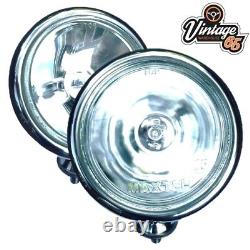 Vintage Warehouse 65 Classic Accessory Lighting Kits. Here we have a pair of very good quality. Fit BMW Mini's R50, R52 & R53 (up to 2006) (all models where the headlights lift up with the bonnet/hood). Will not rust like chrome.
Here we have a comprehensive Stainless Steel spotlight kit with wiring and brackets for you pride and joy. Specially designed for fitting to MK1 BMW Mini's on the front panel/valance and grille support panel giving you perfect rigidity.
Many cheap aftermarket products do not fit as securely as these Wipac units and are not recommended as the lamp power is diminished by vibration and wobbly lamps do not look great. Nearly identical to BMW ones except the lens is free form which is better than the original type. A pair of Top Quality Maxtel 5 Spotlights. A Pair of heavy duty Stainless STEEL spotlight brackets (Please note you will need to provide your own bracket fixing screws as they are not included). A 12v comprehensive fused Spotlight Wiring Kit with Relay & Switch.