Ensemble de 6 chaises de salle à manger en velours gris clair avec pommeau de lion en acier inoxydable chromé.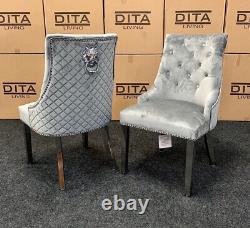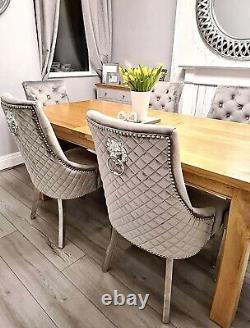 Translate this text in French and make sure it is readable. Keep the HTML tags if any: ENSEMBLE DE 6 CHAISES DE SALLE À MANGER "MAYFAIR" DE DITA LIVING. Design du dossier avec coutures en diamant ?
Pieds en acier inoxydable chromé ? Rembourrage en mousse pour un confort supplémentaire. ENSEMBLES DE 2 ET 6 ÉGALEMENT DISPONIBLES. Veuillez laisser un numéro de contact lors de votre commande. Contactez le 07525287935 pour plus de détails.